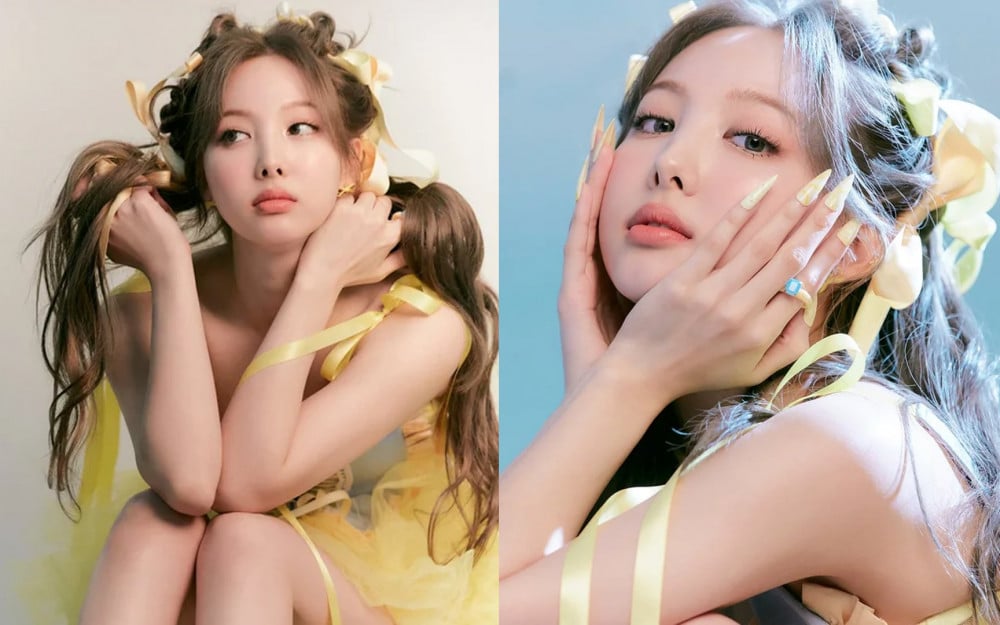 Fall is here. Let's take a look back at some of the summer-themed K-pop songs of 2022. This summer, numerous groups made comebacks with a summery concept. Typically, a summer theme is a cheerful, colorful theme centered around summer. Music videos with a summer theme are usually filmed outdoors in locations that reflect summer, such as open fields, beaches, pools, islands, and places with flowers, bubbles, and camping.
POP (NAYEON)
Nayeon, the first soloist from TWICE, released her extended play solo album titled "IM NAYEON," with the summer-themed title track "POP." With its catchy tune and lyrics, "POP" became a hit this summer. The music video's concept screams "TWICE" and "SUMMER." The mv is full of fun.
I LOVE YOU (WINNER)
Summer king WINNER is back after two years with another summer BOP. They released their mini album 'HOLIDAY' and the title track "I LOVE YOU" in JULY. "I LOVE YOU" charted well in K-charts. There is a summery vibe all around the mv. The whole album shouts summer. Like the title, this song will make you fall in love with them.
UP (KEP1ER)
Formed through Girls Planet 999 in 2021, KEP1ER made their first comeback with a summer-themed song, "UP," along with the extended play album "DOUBLAST." The music video is full of energy and fun. Even the lyrics are based on a cool summer theme.
STAY THIS WAY (FORMIS9)
FORMIS9 is known for their BOP summer releases. This summer, they also had a comeback with another summer-themed song, "STAY THIS WAY." In the summer of 2022, they released the music video for "STAY THE WAY" along with the mini album "FROM OUR MEMENTO BOX."
HYPE BOY (NEW JEANS)
The rookie girl group "NEW JEANS" is slaying in the charts with their debut extended play album "NEW JEANS." Their second pre-release single, "HYPE BOY," became viral hyping everyone. The dance challenge drew a large number of participants.
LAST SEQUENCE (WJSN)
The title track from WJSN's first single album, "SEQUENCE," has a summer theme, but the music video for "LAST SEQUENCE" is distinct from other summer comebacks. In the music video, "MERMAID CONCEPT" is done aesthetically without being excessive.
HEART BURN (SUNMI)
Soloist SUNMI made a comeback with a single album 'HEART BURN' along with "HEARTBURN" as the title track. The music video will take you back to the summer of 1966 in Los Angeles. There is no beach, no island. Still, this will give you an aesthetic summer vibe.
SPARKLING (CHUNG HA)
ormer I.O.I member, soloist CHUNG HA is back with a summer-themed title track, "SPARKLING," along with her studio album "BARE & RARE" in this summer. In the music video, we can see CHUNG HA in an underwater world, dancing in mermaid-themed costumes and accessories.
BEAT BOX (NCT DREAM)
The title track of NCT dream's "BEAT BOX: THE 2ND ALBUM REPACKAGE" is a fun summer release. THE outfits, melody, and lyrics of BEATBOX are bright and delightful, which makes it a fresh summer-themed song. In the music video, members went out with their beatbox and dance in a random place.
BEAUTIFUL MONSTER (STAYC)
The title track of STAYC's single album 'WE NEED LOVE' "BEAUTIFUL MONSTER," is indeed beautiful. Highlighting their vocals, STAYC went for a song with a sorrowful tune amid summer.
CANDY, SUGAR, POP (ASTRO)
"CANDY, SUGAR, POP" is the lead single of ASTRO's studio album 'DRIVE TO THE STARRY ROAD.' The song has a bright and refreshing summer theme.
WHISPER (THE BOYZ)
The BOYZ's title song of the mini album 'BE AWARE' "WHISPER," impressed the fans. The song's music video is based on a summer concept filled with fun melodies and colorful concepts.
FLIP THAT (LOONA)
LOONA's fifth extended play album, "FLIP THAT," has the lead single of the same name. The concept of the music video for "FLIP THAT" is summer and elegance.
LOVEADE (VIVIZ)
This summer, VIVIZ released their EXTENDED PLAY ALBUM "SUMMER VIBE." The album lived true to its name, radiating a summer vibe. The title track, "LOVEADE," has a fresh and mature concept.
SF9 (SCREAM)
"SCREAM" is the lead single of SF9's mini album 'THE WAVE OF9.' This is a bright, colorful, fun summer-themed song. The theme of the music video is refreshing yet mature.
What are your favorite summer concept music videos of 2022? Let us know in the comment section.